Sudoku Volume 4

$8.24
Over 150 fun challenging sudoku puzzles (with answer sheets). Each puzzle is on its own page, which not only reduces crowding but also allows for larger word print sizes for easier reading. Answer sheets for each puzzle are provided in the back of the book. Fun for yourself and for the entire family. This makes for a great gift idea as well.
Baked Chicken
In this blog post I would like to share with you how I like to make very simple and easy to follow homemade un-breaded Oven Baked Chicken Tender Strips. I enjoy this recipe because it only has a couple of ingredients in it, which allows me to actually taste the chicken.
Details : Estimations
Quantity: 12 chicken tender strips
Time to prepare: 5 minutes
Time to cook: 35 minutes
Recipe : Ingredients List
1 package of Chicken Breasts (thawed, skinned, boneless, tender strips)
3 Tbsp of Mayonnaise
Directions : How To Make
Preheat oven to 420 F
While the oven is preheating, remove the thawed chicken breast strips from the package and place into an ungreased oven safe glass cooking pan.
Place a generous amount of mayonnaise onto the raw chicken strips.
Using your hands or a basting brush, coat the raw chicken strips with the mayonnaise and ensure that every piece is fully covered and coated with mayonnaise.
Arrange the coated raw chicken strips neatly in the glass cooking pan so that they are sitting neatly side by side.
Once the oven is preheated then place the glass cooking pan of raw chicken strips into the hot oven, and cook for 35 minutes.
After 35 minutes of cooking, while using oven mitts, carefully remove the hot pan from the oven and place it onto pot holders sitting on the counter.
Turn the oven off.
Screenshots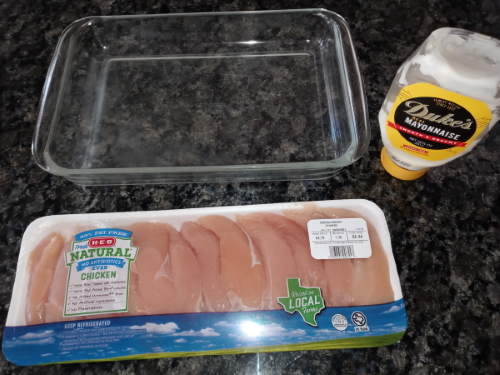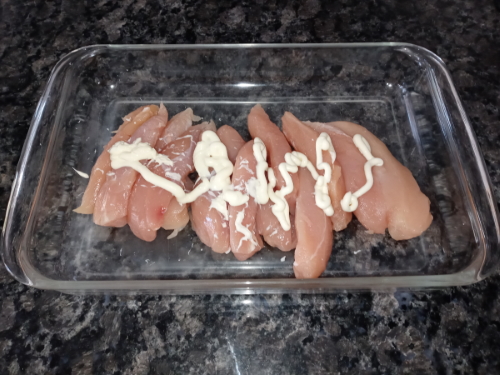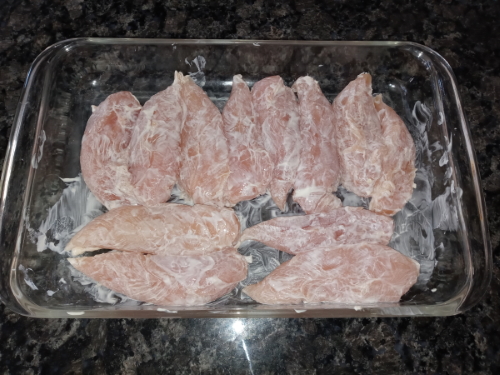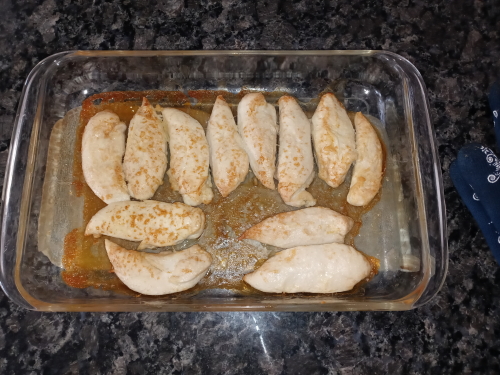 Tips and Tricks
I prefer using a convection heat oven because I imagine that it helps circulate the hot air throughout the oven in an effort to cook the chicken more evenly, but I am not certain if it is necessary.
I prefer using Duke's Real Mayonnaise, but you can substitute with your favorite brand of mayonnaise.
Instead of measuring out the mayonnaise you can always just scoop a couple of large spoon fulls out of the jar, or squeeze a couple of good squirts out of the squeeze tube if your mayonnaise comes in a squeeze tube, as long as it is enough to fully coat all of the raw chicken pieces with.
Try not to use too much mayonnaise otherwise the excess mayonnaise could possibly jell up or burn.
I prefer using H.E.B. Brand, 99% Fat Free, All Natural, No Antibiotics, Skinned, Chicken Breast Tender Strips, but you can substitute with your favorite brand, as well as use entire chicken breasts instead of tender strips if you prefer.
If you don't have an oven safe glass cooking pan then any oven safe cooking pan should work (metal, silicon, cast iron, or ceramic), as long as it has walls to contain any water, oils and juices that will escape the chicken pieces as it cooks. NOTE: I would NOT recommend using a flat cookie sheet or pizza sheet to cook the chicken on, sure it might cook the chicken on it but it would most likely leave an unwanted mess in the oven and possibly cause a fire hazard.
Enjoy!
Be the first to rate this post
---
User Comments
© 2023