Dying To Live : Memories Of A Death Experience

$0.99 ($FREE with kindleunlimited)
More than a Near Death Experience. Based on a true story, this short story is a stunning recollection of detailed memories of having died as a child from a tragic accident and then returning back to life a short while afterwards. This is a recount of what was remembered while dead.
No-Back Oatmeal Cookies
This is one of my top three favorite type of cookies, the No-Bake Oatmeal Cookie. In this blog post I would like to share with you my recipe and instructions on how I like to make them home-made from scratch.
Peanut Allergy Warning - This recipe calls for peanut butter
Details : Estimations
Quantity: 28 two-bite cookies
Time to prepare: 20 minutes
Time to cooldown: 30 minutes
Recipe : Ingredients List
1 stick of Butter (1/2 cup)
1 Cup of Sugar
1/4 Cup of Cocoa Powder (unsweetened)
1/2 Cup of Milk (organic whole milk)
1 Cup of Peanut Butter
1 Tbsp of Vanilla Extract
1 pinch of Salt
3 Cups of uncooked Oat Meal (instant)
Directions : How To Make
In a medium to large size pan (3 quart pan) melt the butter over medium heat on the stove.
Use a mixing spoon to stir in the sugar, cocoa powder, and milk.
Stir continuously over medium heat until all of the sugar has dissolved, but do not allow it to boil. If it boils then it is too hot and could cook the oatmeal, which we do not want to happen (we don't want it to actually cook the oatmeal when we add it in step 6 below).
Once the sugar has fully dissolved then remove from heat.
Stir in the peanut butter, vanilla extract, and salt, and mix until blended well.
Stir in the oat meal and ensure that all of the oats are coated with the mixture.
Line some cookie sheets (or a section of your counter top) with Parchment Paper.
Scoop or spoon bite sized balls of coated oatmeal onto the parchment paper, separating each cookie just enough so that they do not touch each other.
Allow to cool for 30 minutes before enjoying them. And Yes, you can eat them sooner than this, however they will just be gooey. Once they cool for 30 minutes or so then they will harden just a little which allows them to be a little more firm.
Place the cookies into large food containers, separating each layer of cookies with parchment paper so that they do not stick to each other, and keep them stored in the refrigerator.
Screenshots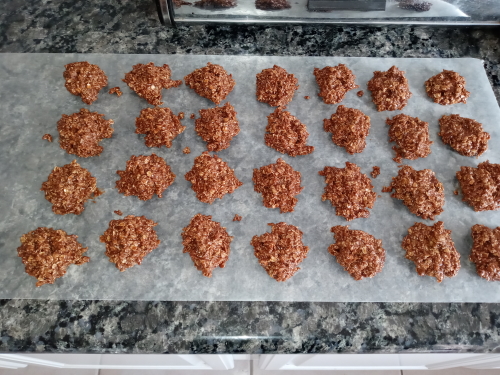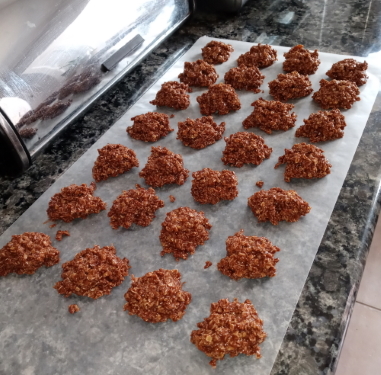 Tips and Tricks
You can increase the amount of sugar from 1 cup up to 2 cups, which will cause the cookies to become even more firm and less gooey once they cool off, but it will also make them taste sweeter.
You might be able to substitute the Peanut Butter with Almond Butter.
You might be able to substitute the diary whole milk with skim milk, almond milk, or maybe even coconut milk.
You might be able to substitute the Butter with Margarine.
Optional Add-Ins
Marshmallows
Crushed Mixed Nuts
Granola
Chocolate Chips
Caramel
M&M's
Enjoy!
Be the first to rate this post
---
User Comments
© 2023